Controversy continues
Hiring policies result in two new lawsuits
For some at Seattle Pacific University, the summer of 2022 was anything but relaxing. Heading into the school year, SPU is involved in two different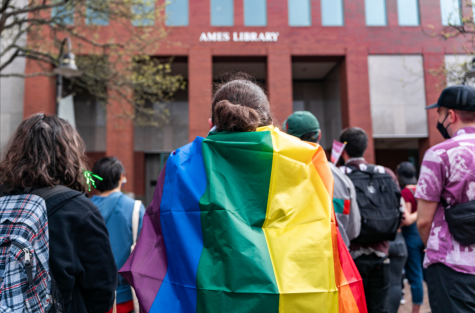 lawsuits as conversations surrounding school policies continue.
On May 23, the SPU board of trustees announced that they would not be changing the lifestyle policies for staff, which sparked protests across campus. Most notable was the month-long sit-in demonstration that caught the attention of both local and national news, including outlets like The Seattle Times and The Guardian. Organized by students, the protest turned the second floor of Demaray into what was called the school's first gender-neutral dorm, complete with makeshift beds, artwork and snacks.
In late June, the student group announced that if the board of trustees did not change the policy by July 1, they would take legal action. Dean Kato, chair of the board, responded to the deadline with a written response that the policy would not be changed.
"After careful and prayerful deliberation, we believe these long standing employee expectations are consistent with the University's mission and Statement of Faith," Kato said. "[They] reflect a traditional view on biblical marriage and sexuality, as an expression of long held orthodox church teaching."
On July 1, students from the SPU LGBTQ group announced that they would be suing the board of trustees for breach of fiduciary duty. 
A few weeks later, on July 27, SPU announced they would be filing a lawsuit against the Washington State attorney general. In a letter to staff and faculty, Interim President Pete Menjares said that they were pursuing legal action because SPU believes they were unfairly targeted.
"It is our contention that the attorney general's office has targeted our university because of our Christian beliefs," Menjares said, "which is why we are asking the court to protect our religious identity."
This issue surrounding the university's hiring practices is not new. For years, LGBTQIA+ students have been fighting to have representation and respect on campus. Haven, SPU's club for LGBTQIA+ students, fought for approval as an official club for almost four years before they were approved, and the topic of human sexuality has been a point of debate since 1991. 
For incoming students, this can be a daunting environment to start university in. But for incoming freshman Madalyn Merk, who is double majoring in special education and elementary education, the fact that SPU is a Christian school gives students a unique position to be able to have an impact.
"I believe attending SPU gives us an opportunity to show what it means to be a Christian," Merk said. "There will always be negative opinions surrounding Christianity, but I think this barrier can be broken more if we truly display what it means to be Christlike and show the fruit of the spirit, not take scripture out of context like lots of people tend to do."
Other students are more ready to admit their disappointment in SPU. For second year communications major Oz Nardecchia, who was involved with much of the sit-in last year, SPU suing the attorney general is frustrating.
"I'm disappointed by the [lawsuit] that SPU announced because it feels like the reason behind why Attorney General Fergerson launched the investigation into SPU was brushed aside," Nardecchia said. "The board refuses to acknowledge the students who want change."
Nardecchia also wants to remind students that Haven is available as a resource for any LGBTQIA+ students who are struggling or simply need a place to feel belonging on campus.
"Any LGBTQIA+ student should know they are loved," Nardecchia said, "and Haven is a wonderful source for that."