First day outcries
Students host protest in Martin Square following lawsuit
On Sept. 12, the first day of classes at Seattle Pacific University, student leaders organized a protest in Martin Square to announce and celebrate that they have officially filed a complaint against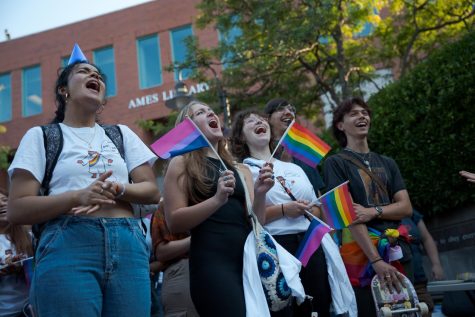 several members of the board of trustees for breach of fiduciary duty, negligent misrepresentation and fraud.
In a document with over 50 pages, the complaint outlines the statements of the case, history on the subject and detailed causes of action. The plaintiffs are current students, staff, faculty and alumni. They will be represented by Snell and Wilmer Law Offices and are asking that six board members resign as well as pay for economic damages.
While the outcome of this lawsuit is yet to be seen, the protest served as a place for students to celebrate what they have already accomplished. Birthday hats, free T-shirts, cake and streamers, along with several speeches from the organizers and plaintiffs of the case, drew the attendance of a wide variety of SPU community members.
For Samantha Dell, a first year psychology major, this event was the first time she had heard of the lawsuit and campus movement.
"I was vaguely aware [of the campus events] but this is the first big thing I've seen about it and I'm here for it," Dell said.
For others, like second year marriage and family therapy student Katie Roberts and her husband Joseph Roberts, a 2019 SPU alumnus, this movement is nothing new.
"I am here because I disagree with the board's decisions, and I'm excited about the lawsuit," Katie Roberts said. "I think the board's decisions have really impacted campus negatively in a lot of ways that are listed in the legal documents that are being filed right now, but I think the board doesn't understand how much it affects the day to day mental and emotional well-being of persons on campus."
As an alumnus, Joseph Roberts does not always feel proud of his alma mater. 
"I loved my time at SPU with my professors and classmates, but this is making me not proud to say that I went to SPU. The people I interacted with were affirming and amazing, but this board is ruining the school and campus life," Joseph Roberts said. 
Over the past years, affirming staff and faculty have had to make the difficult decision of whether they want to stay employed at SPU to support students or leave. Keyne Law, an assistant professor of clinical psychology, has chosen to stay but not without serious concern.
"I feel like I'm making the wrong decision by being here, but yet at the same time feel like I need to be here for all the students, for my grad students, for this community," Law said. "I'm here because this is something I believed in and I really want us to keep making this change. There's a lot of staff who are staying here mostly because they want to make sure that this continues to be a safe space for students."
There are also students on campus who have intentionally chosen to come to SPU despite the controversy, including freshman creative writing major Antonette Rice.
"I've known about the whole thing with the board for quite a long time, and I actually chose to come here so I could fight the board," said Rice. "We are here and we are queer!"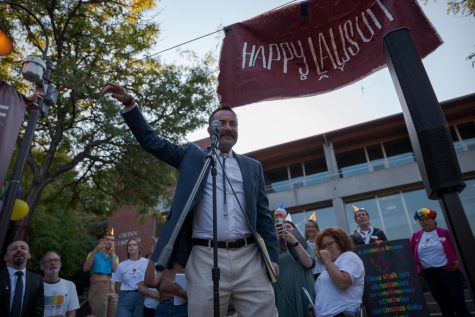 Attorney Paul Southwick believes it could be almost a month before the defendants respond, and at this time the defendants have not hired lawyers. Southwick is confident that the plaintiffs have sufficient evidence for the case.
In the midst of the protests and legal filings, SPU released a brief statement regarding this lawsuit in an email from Director of Public Information Tracy Norlen.
"Seattle Pacific University is aware of the lawsuit and will respond in due course," the statement said.