Serene spaces, increased productivity
Finding the "perfect" place to focus one's mind for academic work
Sweat poured down the student's forehead as they finished climbing the last set of stairs. A day of grueling classes set their mind over the edge as another four hours of homework and studying loomed overhead. The only reprieve from the stressful week was the beanbag and warm cup of tea that awaited them. 
This beanbag is their comfort zone. All students need a place where they can feel relaxed and inspired to put in the effort they need to succeed, but it differs between each unique person. No one person has identical needs or habits. 
Some Seattle Pacific University students may prefer the familiarity and isolation of their room, while others may thrive in an environment built on collaboration.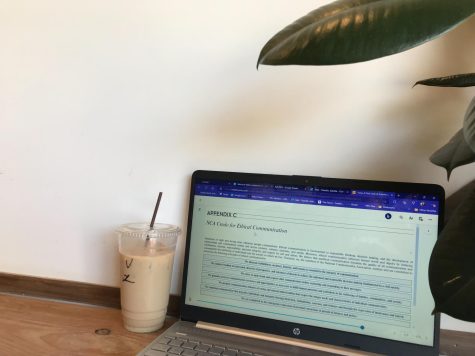 Abi Aguilar Romero, a junior English major, finds the best place to study is quiet and has a lot of open space where her mind can fully understand the new information learned in her classes. 
"My favorite place to study on campus is the study rooms on the third floor of the Ames Library. After always reserving study rooms on the first and second floor, I realized that after an hour or so it can feel claustrophobic because these rooms do not have windows," Aguilar Romero said. "The third floor has windows, and it is more spacious, which helps me feel less cooped up." 
Although Aguliar Romero wants her studying location to be peaceful, that does not mean she is closed off to studying with friends and engaging in collaborative sessions. 
"I think I like both a collaborative environment and a solitary environment for studying. It just depends on the assignment and my mood that day. For example, if I am studying for a really big test, I like to have the ability to compare notes with other people in my classes," Aguilar Romero said.
Helen Peterson, a junior English major, has also found her favorite place to study in a location that many SPU students may be unaware of if they have never had a class in the Cremona classrooms. 
"I really like to go to the little nook off the top of the stairs near the front entrance in Cremona. It's super quiet and less crowded by students like the more common spaces such as Weter Memorial Hall, the Ames Library or even the dorm room study rooms," Peterson said.
For some students, being on campus can make studying for a test more difficult and stressful, so the best solution is for them to find comfort in a new place through exploration of the Queen Anne area. 
Abby Dean, a junior applied human biology major, is fond of traveling to local coffee shops to not only do her studying but also to grab a quick caffeinated drink and a snack or two.  
"I really like Uptown Espresso in Magnolia and Cafe Con Todo in Fremont. They have a lot of plants at Cafe Con Todo, and you can sit in hammocks, which is so fun. They also have the best avocado toast I have found in Seattle," Dean said. "Also, Uptown Espresso has the perfect study vibes and is only 10 minutes away from campus. Both shops make me feel productive, and getting off campus to a different space always helps with productivity." 
There is no correct way to study for a class at SPU, but it is necessary to find the most effective way to guide students to optimal academic success. Finding a setting that creates a comfortable environment and makes people feel at peace and connected to the course materials is the most important thing to do when searching for the "perfect" spot. 
Remember that what works for others may not be ideal for another person. Students should find what fits them and their specific study habits to ensure that they will mentally survive the next four years of their life. 
"My phone is extremely distracting to me, so I usually give it to my friends until our study session is over, which stops me from being tempted to use it. I also play slow classical music to help me study, and I always have a snack near. This method is what personally fits me and helps me have better results after studying," Aguilar Romero said.