Educated eating
Returning SPU students share their favorite places to grab meals off campus
Students at Seattle Pacific University may feel like the campus dining locations are the only options available to satisfy the growling hunger growing in their stomachs. The bagels, snacks and meals that they may have once bought at the C-Store or enjoyed at Gwinn Commons no longer excite them. 
Fortunately, not all is lost. The triumphant return of excitement requires only a short journey off campus. Venturing away from the comfort of campus may seem daunting, but it may be worth taking the leap to learn about alternative dining options.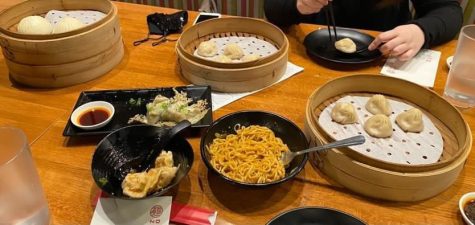 Laurelae Bluntzer, a junior theatre performance major, believes that one of the positive outcomes of going off campus for meals is that it allows students to practice navigating a possibly unfamiliar landscape. 
"Going off campus allows you to explore parts of the city that you haven't been to before," Bluntzer said. "It also helps you figure out and find all sorts of new things that you may want to try out later instead of staying cooped up in your dorm. Plus, it's fun too!" 
Bluntzer enjoys making late-night trips to Dick's Drive-In, which has several different locations in the Seattle area after long nights of studying when all of the on-campus dining locations are closed for the night. 
"I like going to Dick's Drive-In because the one I go to is super close to campus. Places that are in close range of campus are much easier to travel to, especially for those that don't have cars with them," Bluntzer said. "Dick's feels kind of like the Seattle version of In-N-Out Burger. It's just easy, and the food is super cheap. It's perfect for those late nights out with friends."
Victoria Thornton, senior business administration major, also considers eating off campus a fantastic way for students to experience Seattle and open their minds to a wide variety of options, which may be unavailable to those who stay on campus.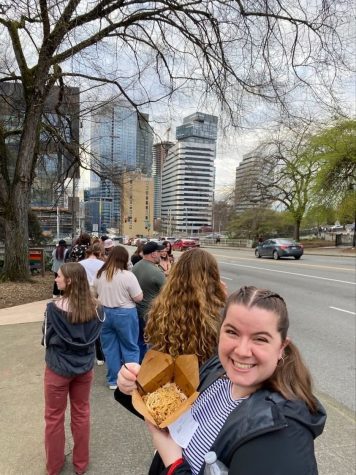 "Eating on campus is so limited and expensive! At first, I kind of regretted moving to a city where everything costs so much more than I am used to, but eating off campus allows you to be adventurous, explore new areas of Seattle and, hopefully, it will save you a few bucks in the long run," Thornton said. 
One of Thornton's favorite places to eat in the Seattle area is Dough Zone because it is more affordable than their tasty-yet-expensive competitor Din Tai Fung, and it is a very convenient stop for a busy college student. 
"Soup Dumplings have been my favorite food since I was first introduced to them in 2019, but having them was always a treat because Din Tai Fung is so expensive. But once I discovered Dough Zone, my favorite food became so much more accessible," Thornton said. "It is only a 13-minute drive from campus, has a parking lot and delivers on DoorDash, which is very convenient when it comes down to either persuading a friend or ordering it for my car-less self." 
While many of the places students travel to for eating off campus are decently close to SPU, they still get the experience of being away from their dorms for a few hours and can even partake in relaxing activities while they eat.
Gabe Endresen, a sophomore history major, enjoys taking his meals to a new location other than the restaurant to enjoy Queen Anne's beauty.
"Mod Pizza in Fremont is my favorite place to eat off campus because you can create your own pizza and take it to a new destination. You can take your pizza and eat it alongside the shipping canal or go somewhere like Gas Works to enjoy the scenery," Endresen said. 
Traveling off campus to eat is not a necessity; however, it does give students the chance to discover the city they will call home for the next four years and decreases the likelihood of becoming sick of repetitive meals. The possibilities for memories and experiences are endless when the adventure is embraced. 
"The benefit of off-campus dining is really more options. It's tough to feel like there are close options to our school when I don't have a car, but, even then, there are a handful of delicious options within walking distance that make a spontaneous trip to eat worthwhile," Thornton said. "Some of my favorite college memories are introducing Dough Zone to my friends, going for a late night Dick's or Taco Bell run or walking to Fremont for Mod Pizza or Thai food."