COVID cases curve down
Hospitals seeing decrease in COVID-19 cases after January spike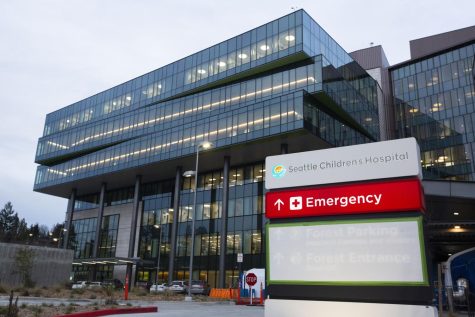 COVID-19 cases and hospitalizations are on a downward swing across Washington state and Seattle area hospitals after a recent surge caused by the Omicron variant. 
According to the Washington Department of Health, COVID-19 cases have been on a consistent down curve since their peak on Jan. 10, when 21,669 cases were confirmed in the state. In contrast, there were 2,676 cases on Feb. 2.
This has been mirrored in King County, where there were 752 confirmed COVID-19 cases on Feb. 2, down from the county's peak of 8,025 on Jan. 4. Hospital admissions are seeing a similar decrease. 
According to the University of Washington Medical Center, total COVID-19 hospitalizations in their four Seattle area hospitals were at 108 on February 4. This is down from their Jan. 21 total of 188. 
Emma Ramey, an SPU alum and testing employee for GS Labs, said that the decrease in people coming to get tested was sudden and obvious. 
"There's like five different sites with the company that I worked with and at one of the sites they went from doing 1200 tests a day to like 200 overnight. Mid to late January it was like go go go go," said Ramey. "Over the course of COVID, there's been these peaks and valleys in testing and the peaks are around the holidays and when people are traveling more."
Ramey explained that the January peak caused by Omicron was stressful for her and her coworkers due to the sheer number of positive cases being recorded. 
"I definitely felt a little uncomfortable being exposed to people who were positive or potentially positive and they would sometimes cough towards me while I'm swabbing their nose. For a while it was like 60% of the people we tested were positive," said Ramey.
The decrease in COVID-19 cases has been a breath of fresh air for Seattle Pacific University nursing students who had many of their in-person clinicals pushed online during the Omicron surge. 
Senior nursing major Liberty White described some of the difficulties many nursing students faced during the peak in cases.
"Clinicals are less and so people aren't able to be placed in hospitals, so a lot of people are doing V-sims (Virtual simulations)," said White. "When you go into a hospital, you have to wear two masks and we aren't allowed to go into any room that has droplet precautions, so any room that has COVID patients." 
White went on to explain that during COVID-19 surges the quality of learning for SPU nursing students decreases. She attributes this to the ineffectiveness of virtual learning and the stressful atmosphere at hospitals. 
"For people who have to do a V-sim, you are not even learning everything, you are just trying to get through it, and some cohorts have been doing that for almost their entire nursing career," White explained. "Most of us do have hospital placements and you are rotated every so often so if you are a first year student, you have less priority to get into a hospital because there's just no room, and people are stressed out so they don't even want student nurses."
According to Dr. Indi Trahan at Seattle Children's Hospital, the strain and stress of the Omicron variant, as well as the entire pandemic, has negatively affected the work atmosphere in healthcare facilities. 
"The atmosphere is generally one of exhaustion among the staff, we are two years into this pandemic. We keep getting surprised with new surges and large influxes of patients despite having both pharmaceutical and non-pharmaceutical interventions that we know work," Trahan said.
He explained that during the Omicron surge, his hospital was working short-staffed, and that the recent decrease in cases and hospitalizations is a relief for him and his fellow peers. 
"The health care workers themselves are getting sick, so every department is working short staffed. So not only are there more patients, there's less people to take care of them. The last two weeks have gotten better as we've seen across society Omicron cases go down," said Trahan. "I think that's a good thing."
Despite cases and hospitalizations decreasing across the state and in King County, Trahan is still concerned that another surge may be looming in the future. 
"The myth or thing I would change is people who think we are done with COVID now that Omicron is gone, I think that's premature to say," Trahan explained. "There's going to be new variants and it might be worse in terms of contagiousness and severity of disease. So while I think that it's good news we've seen some progress in the last week or two, I'm not getting my hopes up that this is over."