Dorm life during disease
Students, staff share thoughts on COVID-19 restrictions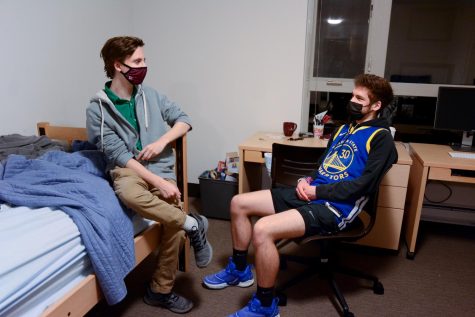 Since winter quarter began for Seattle Pacific University, COVID-19 cases have been climbing across campus. With students returning back to their dorms, many unknowingly brought the virus back with them. As of Jan. 31, 263 total cases have been detected. 
With a new series of cases, decisions to determine how to slow down the extremely contagious new omicron COVID-19 variant were necessary, leading to changes in health policies. 
This decision was made by the SPU COVID-19 Decision Group, who have been tasked with finding ways to keep infections at a minimum. One notable example of new COVID-19 protection measures was the decision to postpone opening in-person classes one week at the beginning of the quarter. 
According to SPU's COVID-19 Health and Safety Expectations website, many of the rules that previously existed remain active, such as face covering expectations. Since last quarter, in order to keep others safe, students have been expected to wear their masks in almost all indoor areas.
These rules still apply, with the website stating that "SPU reserves the right to require face coverings of all people regardless of vaccination status in certain situations (e.g., SPU may require face coverings in connection with crowded outdoor events or activities with fewer than 500 attendees.)"
However, one new set of rules to keep infections at a minimum are the updated student isolation and quarantine protocols. These rules state that students who test positive for COVID-19, have symptoms or come into contact with someone who tests positive are expected to isolate themselves for one week.
With these new rules, and with the rules that have already been in place, students have a lot of opinions regarding SPU's measures to defeat omicron and COVID-19 as a whole. 
Third-year nursing major Matthew Messenger shared his thoughts on the restrictions that have gone back since fall quarter, as well as how he feels when it comes to enforcing them.
"I do think that they should be in place, but if we're all vaccinated, I don't think they should have to be so strict," Messenger said. "I'm glad that we can all be in person, and I understand the rules, but I feel like they can be really hard to enforce."
First-year apparel design major Issac Johnson described his feelings regarding the expectations of students during the COVID-19 pandemic.
"I'd say that they're pretty fair right now. We're not being asked to do anything crazy," Johnson said. "We can still hang out and have normal floor hours and get together inside and out. Classes are in person, so we still get to be together, even if we have to wear masks."
SPU's Director of Residence Life, Gabriel Jacobsen, described the rules that have both been created recently in response to the high amount of infections on campus, as well as the rules that have existed all school year.
"We haven't created any new mask rules, but we did step into some conversation with students who were not being warned about the mandates. We did coordinate with the facilities to make M95s available at all front desks in all the residence halls,  " Jacobsen said.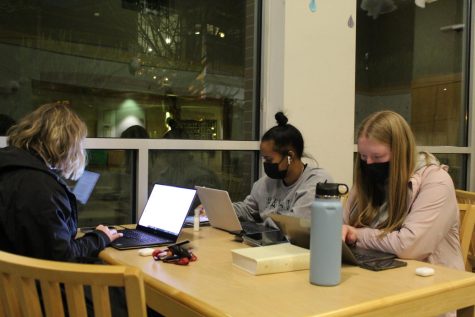 Jacobsen went on to talk about all of the hard work and effort that goes on behind the scenes to keep students safe among the recent COVID spike, giving credit to health services and other departments working hard through these difficult times.
"I don't think people see it, but there's a lot of work that goes on within the isolation and quarantine space to make sure students are moved, places are cleaned, meals are provided, and academic support is given," Jacobsen said. "There's a much larger picture than just Residence Life. Everyone's working to make sure if students are positive or have symptoms, then they're separated and have some time to get better."
With the surge in COVID-19 due to the omicron variant, some believe that the pandemic may soon come to an end. When asked if SPU had an expected time when we could start getting back to normal, Jacobsen said this.
"I think it's very likely we're going to have a very 'play it by ear' approach. We really can't say if or when there's going to be another variant or if anything else is going to come funneling through."
Jacobsen shared how these rules must be followed despite possible frustrations.
"We know that people are sick of it and that it's not fun to be approached about not wearing a mask, and it's every RA's least favorite part of the job to do it, but it's still state requirement and campus policy, and it's our expectation that we have to follow through in our spaces."
With winter quarter now in full swing, and almost every student back on campus getting readjusted to the expectations, many students and staff members are hopeful that the end of the pandemic, and a return to normalcy, may not be far away.
"We're trying to take a middle road to avoid shutting everything down," Jacobsen said. "We're putting as many measures in place to keep everyone in good shape, and to provide as many resources to protect students as possible."