Long lines, short staffed
SPU dining facilities struggling to accommodate increase in students on campus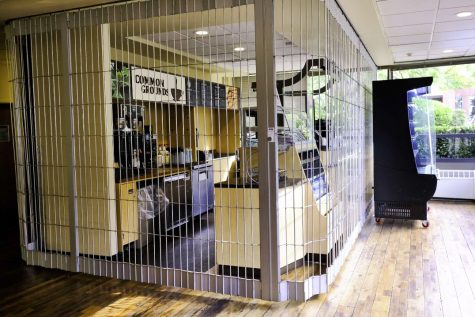 Following a year of online classes with most students living off campus, Seattle Pacific University's dining facilities are struggling with the increase in students on campus due to a shortage of staff and supplies. The lines at Gwinn and the C-store frequently wrap around the building, and stores like Subway and Common Grounds remain closed.
Second year art history and honors major Amy Kolbo has had to change her typical schedule and often goes without meals because of the long lines and shortages at Gwinn.
"Sometimes my schedule just doesn't line up with Gwinn's hours, and usually I'd just go to one of the other dining options so I can grab something between classes. Since the shortage started, I've had to rush into Gwinn directly after, if there isn't already a line," Kolbo said. "So what I end up doing is either just skipping breakfast/lunch entirely and eating at Gwinn for dinner or eating something if I happen to have food in my dorm."
With Subway and the dining options in the Student Union Building currently closed, many students have turned to Einstein's Bagels and the C-store for meals.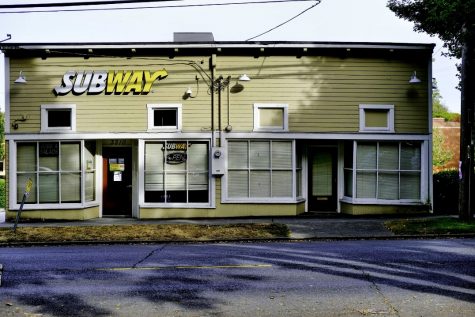 According to sophomore computer science and honors major Garrett Crites, an employee at Einstein's Bagels, dining services were not prepared for the increase in students on campus.
"We just don't have enough people," he said. "We didn't realize how much more labor we would need with a full campus. We're just now getting out of COVID, relatively, so as things are opening up, we're starting to realize that a lot of those supply chains have been failing, or not so much failing, but they're just not the same as they were."
Second year museum studies major Kit Nowicki misses her morning routine of visiting Common Grounds and chatting with the barista. Although she is disappointed that she no longer has the comfort of a daily coffee, she recognizes that the employees are working as hard as they can.
"It's also been really inconvenient that Einstein's is so understaffed because it's such an elite staple on campus, and now I hate going there because I feel so guilty knowing that the employees are so overworked and underpaid," Nowicki said. "My bagel doesn't taste good when it's tainted by the fact that the employees are being forced to work in kind of awful conditions right now."
Senior political science and public policy and law major Cade Huston is also employed at the C-store. He explained there are many reasons dining services is struggling.
"This isn't a micro level problem," Huston said. "This shortage is because of larger things happening in our country. It is also super difficult to hire people as no one is seeking to apply or want jobs here or anywhere else (i.e. all the help wanted signs everywhere). This labor shortage, as well as the pandemic, has caused the distribution lines to be messed up."
Despite these struggles, Sodexo's General Manager for SPU, Kim Karsten, detailed the school's goals to re-staff and reopen dining services around campus.
"Our goal is to offer quality service and products during these challenges while being transparent about what we are experiencing, " Karsten said. "We are adjusting menus and operations daily to meet the needs of students and the SPU community. "
Karsten also listed the projected opening dates for several dining services, most of which are in Falcon's Landing in the Student Union Building. Academic Perks is opening up on Sept. 27, Subway on Oct. 4, Urban Grub and Bertona Street Grill on Oct. 11, and Handcrafted on Oct. 25.
Despite the struggles dining services are facing, students like Nowicki are thankful for the dining staff and hope that the conditions for the employees improve soon.
"I don't know how much the Sodexo workers make, but I know they deserve a raise," she said. "They also deserve a hug. The overworked Sodexo staff is the backbone of SPU right now."